Benefits of GlobeCore Polymer Modified Bitumen Plants
Polymer modified bitumen is used for road construction
The intensity of freight traffic is rapidly growing every year. Proportionally increases the load on pavements. These conditions lead to irreversible deformations, degradation, brittleness, cracking and aging of roadways.
In this situation, a method has been developed to improve thermal  characteristics, fragility and tendency to aging – by adding special substances into bitumen. They are called modifiers, and bitumen obtained in this method – modified. The modifiers applied are  synthetic polymeric materials.
Introducing polymers creates a complex colloidal structure of bitumen,  changing its rheological characteristics:  temperature sensitivity, adhesion properties, elastic and strength characteristics. As well as decreasing deformation under load, and restoring elasticity.
A polymer-modifier added to bitumen absorbs the low molecular weight  fraction of the bitumen, reducing its volatility and increasing its strength. For technical realisation of modified bitumen GlobeCore  developed an installation UVB-2.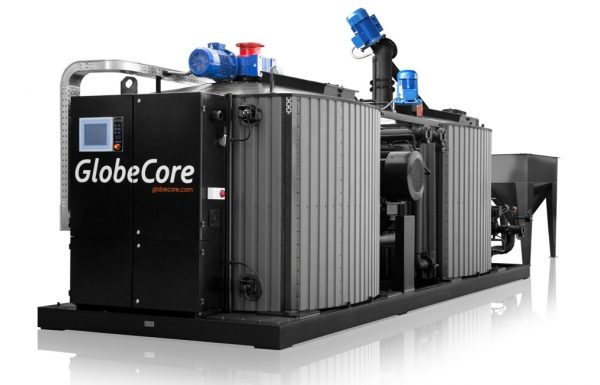 Polymer modified asphalt plant includes: two reactors, colloid mill, an oil heater (used to heat the bitumen without damages), bitumen supply pump, polymer feed pump, bitumen valves, control cabinet, technological heating system, an input node of adhesive additive, plasticizer, and  polymer loading platform.
Mounted inside the heated colloid mill there are  movable and stationary discs, that allow to adjust the gap.
The control system works  the equipment, in both manual and automatic mode.
Advantages equipment for modified asphalt production:
UVB-2 Units have following advantages:
Can be used for administering all currently known polymers, waxes and various specific additives;
Work with a variety of forms of modifiers : powders, granules, etc .;
Allow to realize almost any bitumen modification chart;
During pumping and modifications other additional plasticizers and additives could be introduced that improve the adhesion of the bitumen;
In the pumping mode, there is the possibility of introducing additional quantities of polymer;
Oil heating system can reduce costs on electricity;
The ability to operate both  outside, under a canopy or inside.
Technical characteristics of the installation UVB-2 (for modified bitumen production)
Parameters

Value

1. Minimum capacity, m/h

4-7

2.polymer per 1 m³ of bitumen , kg input

10…100

3.Mode of operation  –   regular cycles
4.Number of reactors

2

5. Nominal power, kW
 — mill

45

— bitumen to mill pump

7,5

 — bitumen input/output pump
— agitator drive

2 x 7,5

— heater (total)

4 x 27

— heat carrier pump

2,2

— control system

0,8

— plasticizer supply pump

3

— adhesion additive supply pump

0,25

— total

195

6. Power supply
— voltage, V

380

— AC frequency, Hz

50

7.Dimensions (excluding components removed for transportation), mm
— length

5200

—  height

3200

— width

2400

8. Weight, kg, max

5600
What do you get by buying ours station:
Improved performance of road bitumenwith the help of polymer modified bitumen;
Extended service life of pavements;
Training your staff in maintenance and operating;
Start up of the equipment at future operation site (if necessary).