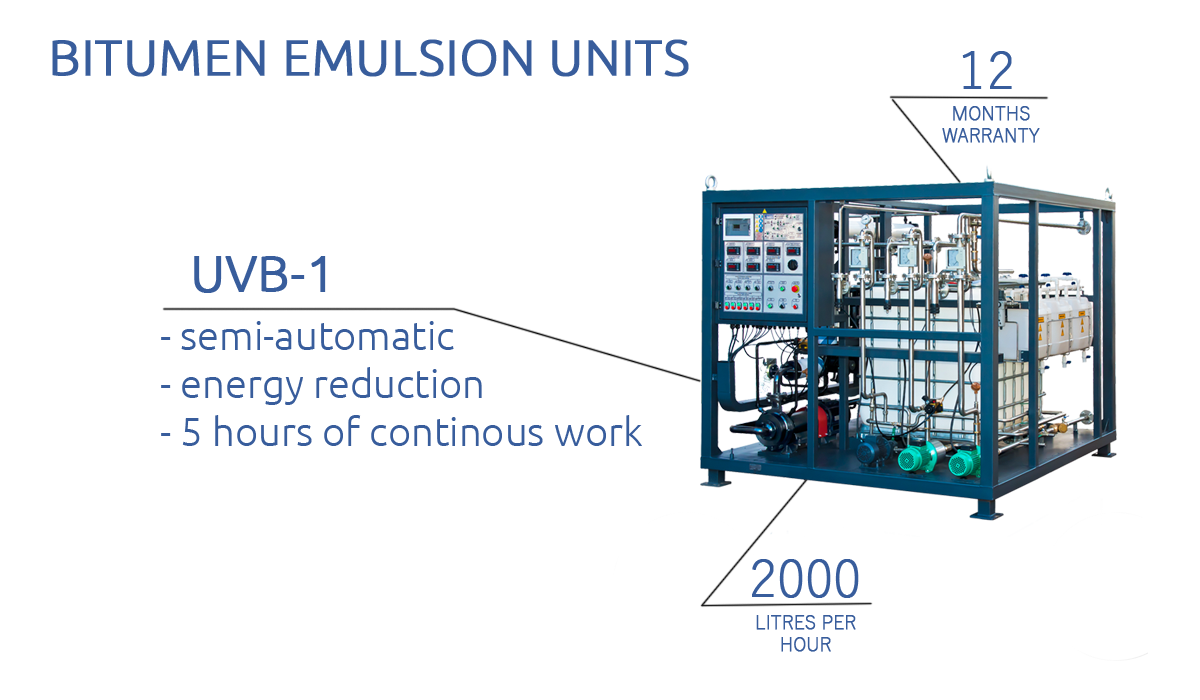 Equipment for Asphalt Emulsion Production
German quality, worldwide delivery.
You can start the asphalt emulsion production business

Independence of bitumen emulsion producers

Bitumen economy

Energy reduction
What Is an Asphalt Emulsion?
An asphalt emulsion is liquid bitumen emulsified in water. It is composed of asphalt, water and an emulsifying agent. The emulsifying agent is sometimes called the surfactant, which is composed of large molecules. These soap molecules are like tadpoles, having a hydrocarbon tail soluble in liquid asphalt and an electrically charged or ionic head soluble in water. The asphalt particles are surrounded by the ionic charge, which causes the droplets to repel each other and stay suspended in the water.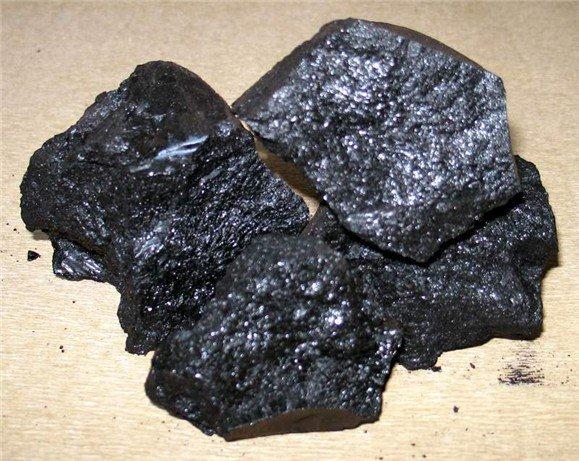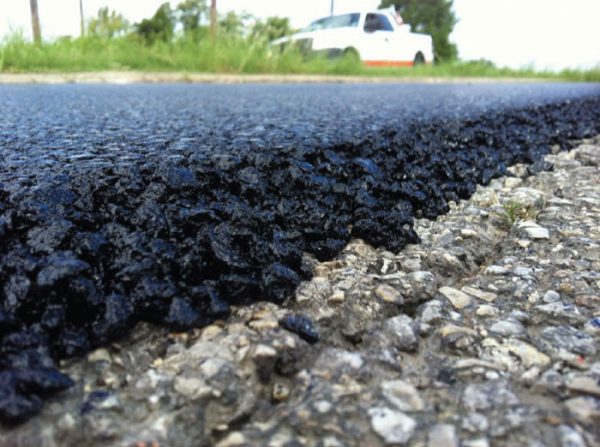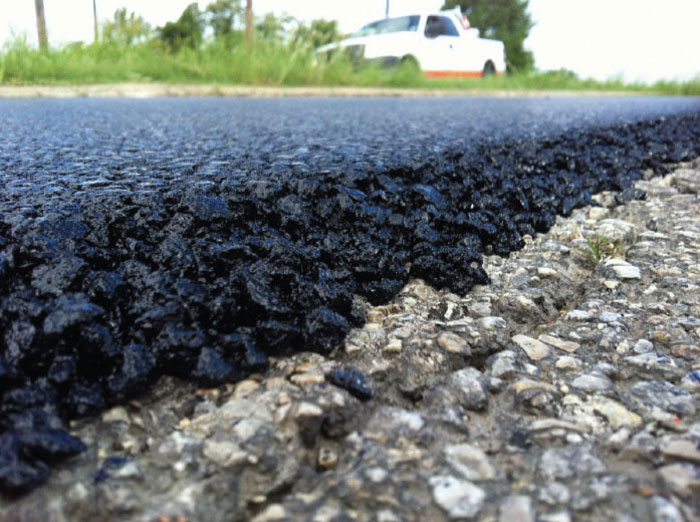 All asphalt emulsions are designed to eventually break, or revert to asphalt and water. Some emulsions break by chemically destabilizing the surfactant, others by a simple evaporation of the water. Still others break by a combination of chemical destabilization and evaporation.
Today's emulsion manufacturers have many new chemistries available to design the emulsion for the optimal break time and specific use.
How Are Emulsions Made?
Asphalt cement is the basic ingredient of asphalt emulsions. In most cases, it makes up from 50 to 75 percent of the emulsion. Some properties of the asphalt significantly affect the finished emulsion. But there is not an exact correlation between the properties and the ability to emulsify the asphalt. The properties of the asphalt cement do affect the performance of the residual asphalt on the road.
Water is the second ingredient in an asphalt emulsion. Minerals or other materials in water can affect the production of stable emulsions. Water that is suitable for drinking may not be suitable for asphalt emulsions.
The chemical used as an emulsifier greatly influences the properties of an asphalt emulsion. The emulsifier keeps the asphalt particles in suspension and controls the breaking time. It also determines whether the emulsion is cationic or anionic (or non-ionic). Chemical compatibility of the emulsifying agent with the asphalt cement is essential for producing a stable emulsion.
The emulsion is produced by separately metering the soap and water solution and hot liquid asphalt into a colloid mill at predetermined rates and temperatures. The colloid mill shears the asphalt into microscopic particles. The size of the particles affects the physical properties of the emulsion.
Sometimes additional ingredients, including latex, polymers, acids and other additives are fed into the emulsion to further modify its physical characteristics.
BITUMEN EMULSION UNITS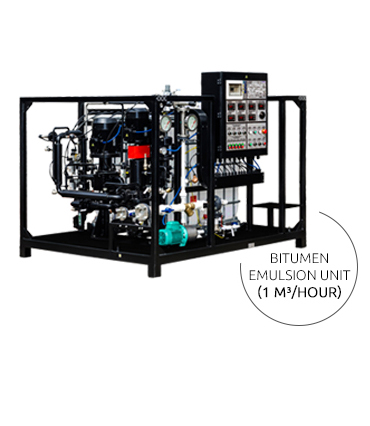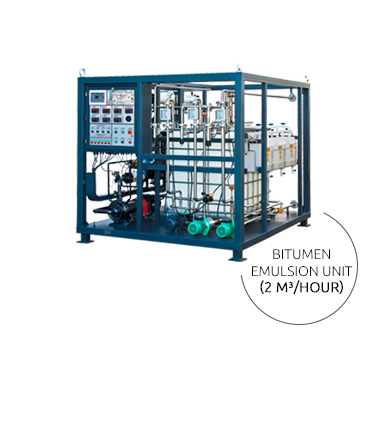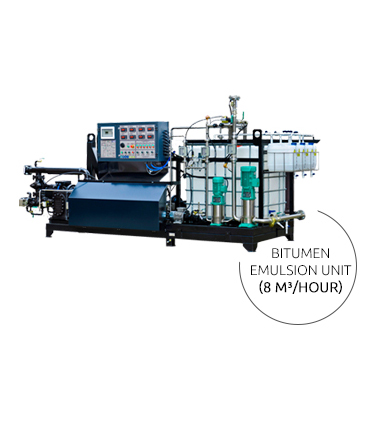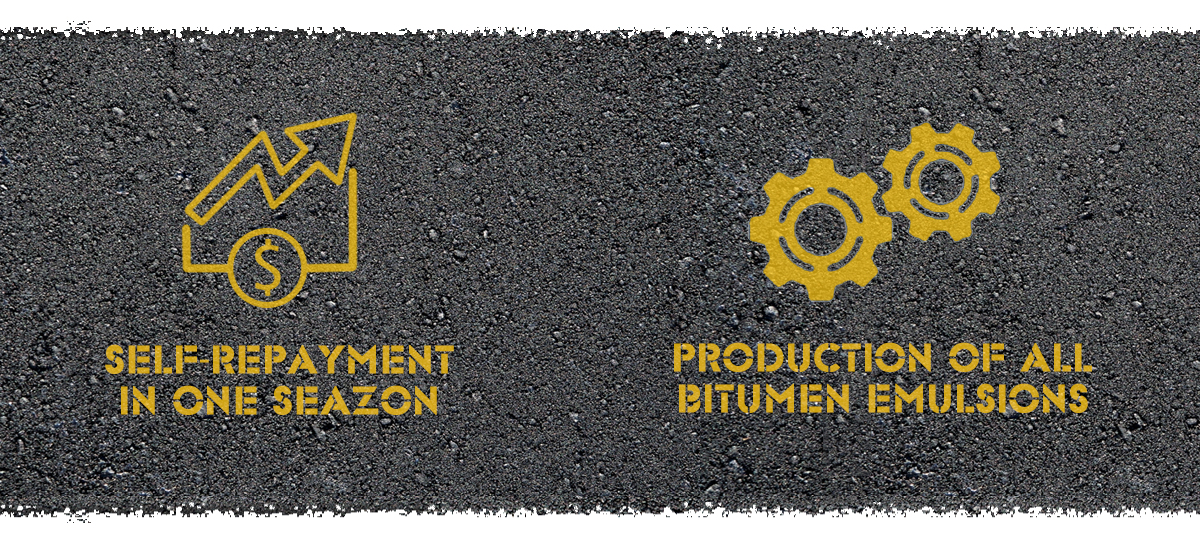 V

ERSIONS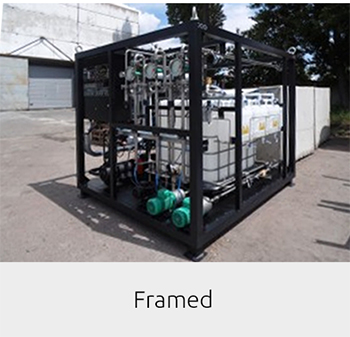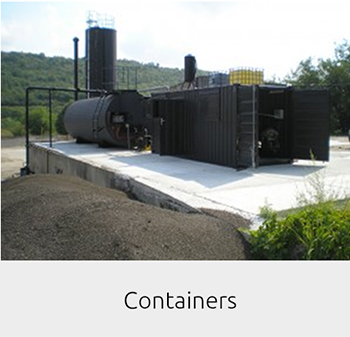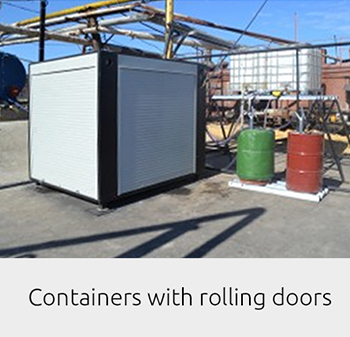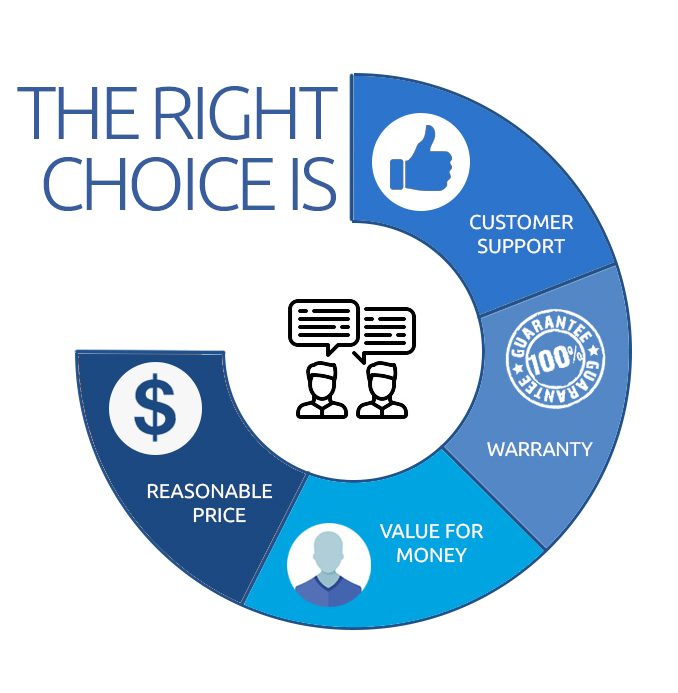 [parallax-scroll id="2655″]

ADDITIONAL OPTIONS
Bitumen emulsion collection tank (UVB-1)
SBE bitumen emulsion collection and storage tank is designed for storage of bitumen emulsion produced with the UVB-1 bitumen emulsion unit. It can be supplied without agitator with facilities of circulation pump collector. The system is equipped with Dinel and Wika temperature and level sensors as well as overflow sensors.
Bitumen Pump
The SN-1 pump assembly is designed for pumping of high viscosity organic binding materials with viscosity up to 3 500 mm2/second and temperature up to +180°C. This pump is used for pumping of waterproofing, roofing, asphalt repair mastics and emulsions, as well as pumping of oil, tar and bitumen emulsions.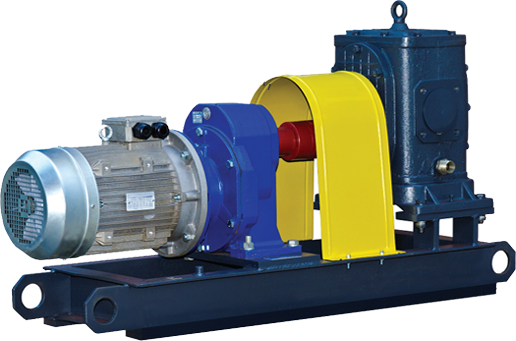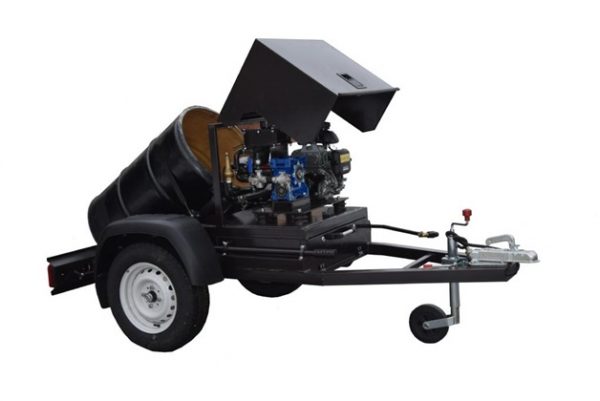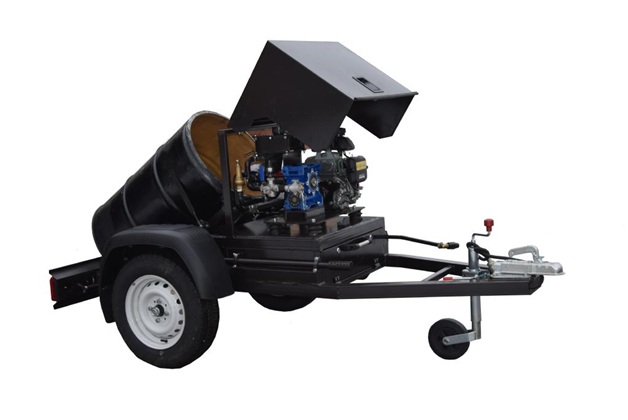 Bitumen Emulsion Sprayer
This Equipments is for tack coat and Bitumen Spraying application. It is capable of applying a uniform unbroken coating of bitumen emulsion on specified surface in prescribed quantity.
Bitumen filter
The filter is intended for integration into input, storage and output processes involving regular or modified bitumen, bitumen emulsions and other high viscosity liquids which require heating.
This filter has two filter cartridges so as to operate continuously. It also features temperature and pressure sensors for increased reliability and safety.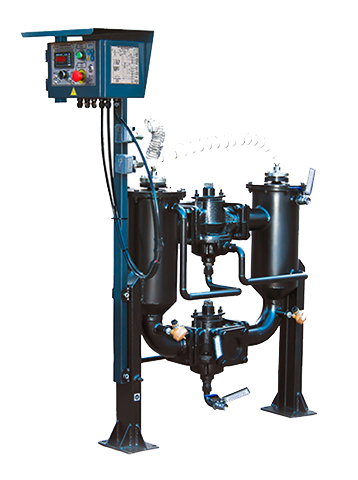 About Manufacturer
Globecore: Asphalt Emulsion Plant Manufacturer
GlobeCore GmbH is one of the world leaders in industrial manufacturing. Products of GlobeCore are used in production of asphalt (bitumen) emulsions and modified bitumens.
The head office is located in Oldenburg, Germany. Our systems have been supplied to and are successfully operated in 70 countries. A network of 17 dealers supports global sales and services.
GlobeCore established representative offices in United States, and South Africa and in United Arab Emirates to extend reach and improve efficiency. We actively expand production and sales territories, develop our infrastructure and introduce new additional services.